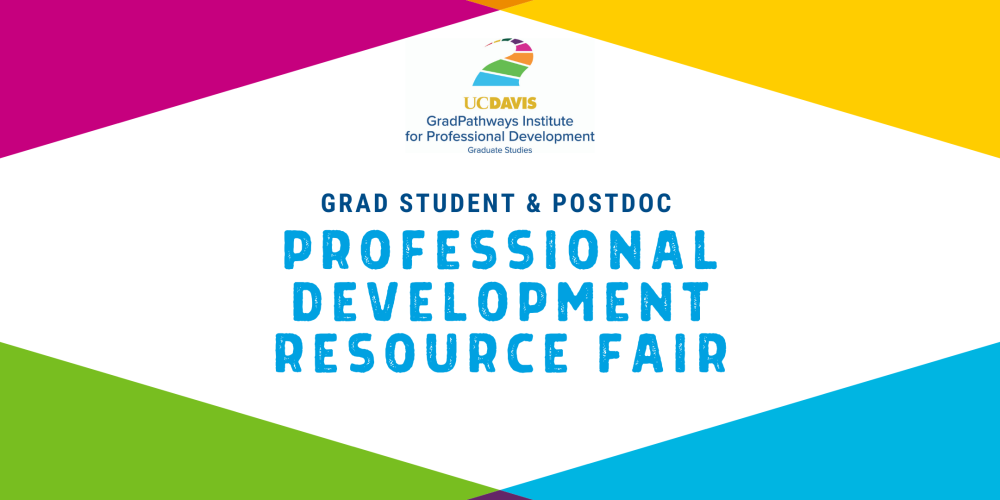 GradPathways Institute Annual Professional Development Fair
The 2023 Fair is over but will return on Wednesday, February 7, 2024!
11 am to 1 pm
The Graduate Center at Walker Hall
Click to Automatically Register - link for the fair will open again Dec. 2023!
All UC Davis graduate students and postdoctoral scholars are invited to the annual GradPathways Institute Professional Development Fair!
Come to the Fair and gather career and professional development information from the following resource providers and experts: the Biotechnology Program; Chancellor's Graduate and Professional Advisory Board; Counseling Services; DataLab: Data Science and Informatics; ESTEME; Field Research Safety; Global Learning Hub; Graduate Diversity Officers; Graduate Studies Mentoring;  the Graduate Writing Fellows (UWP); the Humanities Institute; Institute for Innovation and Entrepreneurship; International & Academic English; Internship and Career Center; Institute for Innovation and Entrepreneurship; Learning, Teaching, and Assessment (CEE); Professors for the Future; Public Scholarship & Engagement; Translational Research Education and Development, CTSC; Ombuds Office; Sacramento Valley Association for Women in Science; Science Says; UC Davis Library- Researcher Services; and the GradPathways Institute for Professional Development!  
The Resource Fair will offer:
Free professional head shot photos 
Raffle prizes and free swag
Takeaway Box Lunches (for those who register in advance)
Resources to help you succeed - all in one place!   
This event will take place in-person at the Graduate Center at Walker Hall.  We hope to see you at the fair on January 25th!