Projects of the Class of 2021-2022
LGBTQ Grad Voices: Online Community Building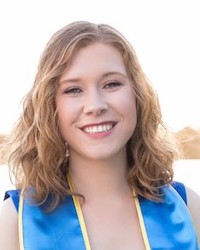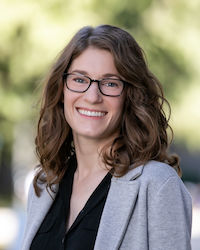 Chloe Brotherton and Gwyneth Manser
(Ph.D. Candidate, Linguistics) & (Ph.D.  Candidate, Geography)
We will create a blog/zine website by and for UC Davis LGBTQ graduate students. We will ask for a range of submissions, including artwork, poetry, and short essays about the LGBTQ graduate student experience, community resources, and calls for activism. We envision the posts as being interactive through a comments section. We will also set up a chat section of the website to allow people to connect with others more directly and foster more discussion.
We intend to execute this project in collaboration with the LGBTQ Resource Center. The blog/zine site could be linked on the LGBTQ Resource Center's main website as well as their social media pages as a way to publicize it. This venue for virtual community-building for LGBTQ graduate students is crucial to improve the well-being of the LGBTQ graduate student community, especially during the ongoing pandemic. There is currently no centralized hub specifically for LGBTQ graduate students to gather and communicate within UC Davis's physical or virtual spaces. This project fills this gap, allowing students a space for self-expression, social connection, activism, and resources.
Improving Science Communication through Improv Theater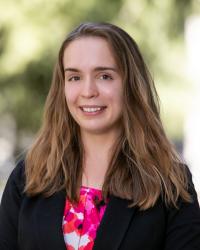 Rachael Coon
(Ph.D. Candidate, Animal Biology)
A major component of graduate education for STEM students is learning how to communicate one's research in a concise and easily comprehensible manner. The pandemic has forced nearly all communication onto virtual platforms, limiting opportunities for connection and discussion of science between graduate students and potential audiences. It is important that in the wake of Covid-19, graduate students practice science communication, especially since the limited public understanding of scientific research has been highlighted as an obstacle to recovery. This workshop brings STEM graduate students together from all disciplines to learn about using performative theater techniques to engage an audience with scientific storytelling. Practicing improv theater improves stage presence, mental acuity, and audience awareness, all skills necessary for successful sci-comm. Participants have the opportunity to develop their research pitch into a relatable message and hear from graduate students who have mastered the skill of scientific storytelling in the UC Davis Grad Slam competition.
Empowerment and Education for Scholars Against Sexual Harassment in Academia
Rose De Kock
(Ph.D.  Candidate, Neuroscience)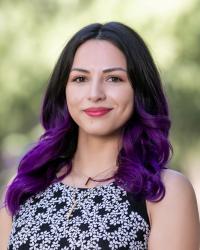 In 2018, a report came out from the National Academy of Sciences, Engineering, and Medicine describing the gravity of the sexual harassment problem in academic STEM. The data demonstrate that sexual and gender harassment experiences have severe negative impacts on individuals affected, are more common than typically acknowledged (e.g., affecting ~60% of women in STEM), and undermine the integrity of academic scholarship at a systemic level. Additionally, this burden is more likely to affect gender and racial minority groups, and many survivors cite harassment and hostility as the main reason for eventually leaving academia. These difficult realities highlight the need for training resources specifically for survivors, at-risk groups, and allies to equip them with tools for self-advocacy and empowerment.
To meet this goal, I will host a workshop series focused on trainee empowerment through (1) understanding the scope of the problem, (2) knowing one's rights and having action plans available, and (3) focusing on mental wellness to promote self-advocacy or manage the repercussions of being targeted. This series will also be useful for allies who want to establish a more equitable climate in their institutions. Resources from this series will be made available via a downloadable sheet that includes action plans, survivor rights, and mental health strategies.
LaTeX 101: Making Publication-Quality Papers and Professional-Grade Presentations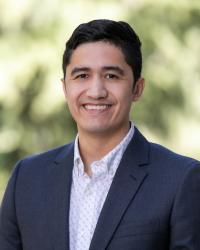 Mason del Rosario
(Ph.D. Candidate, Electrical and Computer Engineering)
Many publication-quality STEM documents, including journal articles, textbooks, and presentations, are written in LaTeX. Like other markup languages, LaTeX involves writing and compiling code to generate a document. For writers accustomed to "What you see is what you get" (WYSIWYG) editors like Microsoft Word, learning a markup language like LaTeX can be daunting, and most academics' training in LaTeX is done in isolation through internet forums, online tutorials, and general trial-and-error. For my PFTF project, I will hold a three-part workshop series during the Winter Quarter 2022 focused on the basics of LaTeX and aimed at researchers-in-training.
My workshop series, "LaTeX 101: Making Publication-quality Papers and Professional-grade Presentations," will provide a chance for novices to learn LaTeX with live help from experienced users. The first two sessions will cover the curriculum of learnlatex.org, which covers the basics of typesetting, mathematical notation, and much more. The third session will introduce attendees to common LaTeX templates, including CVs and presentations, as well as Inkscape, a graphics editor which enables embedded LaTeX. After this workshop series, attendees will be able to use Latex to write and compile visually impressive documents for their own coursework, publications, and presentations.
Exploring Graduate Student Welfare and Structural Inequalities within the context of University DEI Issues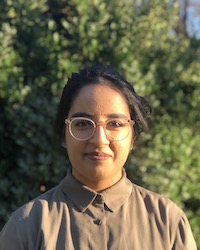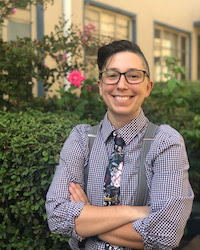 Aisha Faruqi and M.A. Miller
(Ph.D.  Candidate, Civil and Environmental Engineering) & (Ph.D.  Candidate, English)

This project aims to explore the various challenges faced by UC Davis graduate students such as housing and food insecurity, and race- and gender-based discrimination. The project will involve a comprehensive survey to assess the welfare of graduate students in the face of exacerbated DEI vulnerabilities in a pandemic era of University education. A two-part workshop series will be offered to graduate students during the Winter quarter that will inform and facilitate the development of our survey questions as well as start a discussion on what mutual aid is and what other potential routes are possible for addressing challenges faced by graduate students.  Our first workshop will be a reading group of Dean Spade's Mutual Aid: Building Solidarity During This Crisis (And the Next)  where we will build a shared vocabulary on the concept of mutual aid and discuss the ways in which it does or does not translate to graduate student communities. The second workshop will bring the reading group back together for further discussion of the concrete ways we already see mutual aid in practice in our graduate communities and a broader interrogation of the factors that contribute to such a need for peer resource support. Our hope is that such conversation will allow us to not only consider but also delineate a framework for understanding the gaps and deficiencies in University responsibility for and response to ongoing graduate student resource insecurities. The outcomes of this project aim to influence decision-making both at the graduate student level and university administration level. 
Now Hiring: Resources and Support for STEM PhDs Seeking Competitive Academic Positions
Alyssa Griffin
(Postdoctoral Scholar, Earth and Planetary Sciences)
According to the National Science Foundation, less than 20% of Ph.D. recipients in Science, Technology, Engineering, and Mathematics (STEM) fields will obtain academic faculty positions. These statistics are drastically lower for women and minoritized scholars. The job market for coveted tenure-track faculty positions in STEM is notoriously competitive and is likely to become even more challenging in the post-pandemic landscape. While Ph.D. recipients have demonstrated indisputable mastery of their discipline, many are left ill-equipped to navigate the academic job market. The "hidden curriculum" is often discussed at other educational and career stages, but is often overlooked when graduates are attempting to transition to faculty positions. Many graduate and postdoctoral trainees report receiving little if any, career advice for preparing application materials, managing interviews and/or campus visits, or constructing an effective job talk. In addition, if trainees receive an offer, many lack the insight to negotiate the offer with confidence and to ask the "right" questions of the recruiting institution.
Trainees are typically expected to rely on the willingness, availability, and knowledge of either their graduate or postdoctoral mentor(s) for career advice. However, many mentors may be unavailable or unwilling to assist their trainees in this process. This sole reliance on mentors may be particularly problematic for minoritized scholars because there is evidence that mentors are less likely to engage with and can exhibit conscious and unconscious biases towards minoritized trainees. By equipping trainees with the information and tools they need to confidently navigate the STEM academic job market, institutions have an opportunity to make the job search more equitable, fill existing knowledge gaps, and make trainees from all backgrounds more competitive for highly sought-after tenure-track positions in STEM.
The goal of my project is to augment existing support at UC Davis for STEM graduate and postdoctoral trainees navigating the academic job market. I propose to create a series of four self-paced, on-demand workshops that address specific components of an academic job search. While some workshop information may be widely applicable to anyone on the academic job market, the content will be specifically tailored to STEM trainees. The four workshop topics will include: 1) The Research Statement: How to communicate your future research agenda, 2) The Short List: How to navigate screening interviews and campus visits, 3) The Job Talk: How to curate an informative and effective job talk, 4) The Offer: How to negotiate in support of your future success and fulfillment. These workshops will be offered through UC Davis Canvas for current and future users to access.
We Are First: Continuing Resource-Building for First-Generation Student Support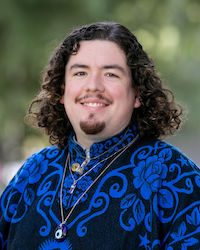 Tyler Méndez Kline
(Ph.D. Candidate, Linguistics)
Learning to navigate academia as a first-generation college student can be an overwhelming experience, especially for graduate/postdoctoral students. Many first-gen students find themselves dealing with difficult circumstances, often characterized by a lack of support, resources, and networking that facilitates the transition into a daunting environment. The majority of available resources are often geared towards undergraduate students and while this is beneficial to many first-gen students with similar experiences, there remains an ongoing need to invest in resources that can be of use for graduate/postdoctoral students. Thus, this project seeks to accomplish two main goals: (1) revitalize the I Am First symposium held by former PFTF fellows, and (2) establish a set of online resources that first-gen students may access in their search for support networks.
The half-day symposium--entitled We Are First--will consist of interactive workshops, each dedicated to addressing different areas of higher education presenting challenges for first-gen students: (1) Explaining your work to loved ones, (2) financial stability, (3) mental health awareness and maintenance, (4) demystifying graduate school, and (5) networking for success. This symposium will center first-gen college students' needs by helping to build community, discuss personal success tools, and navigate new environments. Building on the symposium workshop themes, I will also establish a website consisting of: (1) links to on-campus and community-based resources, (2) personal first-gen stories providing a sense of community, (3) pages focusing on the symposium themes, and (4) mentorship opportunities. Keeping in mind that being first-gen can intersect heavily with other identities, this website will also help students find spaces that speak to their own personal experiences (e.g. BIPOC, queer, neurodivergent, etc.).
This project will help first-gen students feel empowered to find resources specific to their personal needs, maintain community connections, and continue applying various tools for their own goals.
Inspiring Womxn and Femmes in STEM Symposium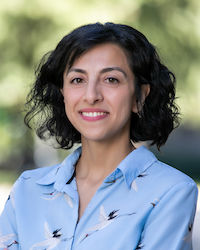 Alba Ledesma
(Postdoctoral Scholar, Animal Science)
According to the Council of Graduate Schools in 2017, 53% of doctoral degrees in the U.S. were earned by women and nearly 50 % of biology jobs were held by women, trending sharply upward. However, in engineering, mathematics, and physical sciences, this number has remained below 20 %, and the trend was markedly negative for computer science. With so many women graduate students, why are so few leadership positions in STEM held by women? Why do women dominate some STEM fields more than others?
With my project, I would like to address the gender imbalance in STEM fields. As a continuation of the project of the PFTF fellow Dr. Tania Toruño (2018-2019), I propose a symposium in which the above questions are discussed by women leaders in STEM who can share their decisions and experiences as they advanced in their respective disciplines from high school all the way to their current leadership roles. The symposium would offer a combination of presentations, panels, and round-table discussions among womxn and femmes in a wide variety of STEM fields so that participants and listeners can compare and analyze their respective fields to identify those forces (culture, sexism, etc.) that either contribute to or hinder women entering various STEM fields. A major objective would be to identify those factors that have allowed womxn to advance to a greater degree than in computer science, and what other STEM fields can do to "catch up" to the biological disciplines. During the symposium feature leaders from academia and industry will provide professional development skills, funding opportunities. In addition, topics that resulted from the feedback from the public that attended Dr. Toruño's event will be added in the present symposium. My goal through this project is to inspire, engage and empower young Womxn and Femmes in STEM within the context of a supportive community. I believe that by listening and talking to diverse womxn in a diversity of STEM disciplines, we can apply lessons learned in other disciplines toward closing the gender gaps in our own fields.
Conduct Peer Review for Scientific Journals as a Junior Researcher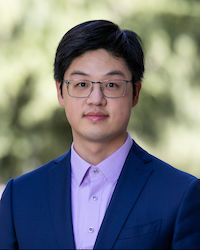 Kaisen Lin
(Postdoctoral Scholar, Air Quality Research Center)
Conducting peer review is an important way that junior researchers contribute to their scientific communities, especially for those in the STEM fields. However, it is not easy to get started as a peer reviewer. Firstly, graduate students, sometimes even postdoc scholars, get much less training on how to properly conduct peer review compared to other research activities, such as experimental design, data analysis, manuscript drafting, and presentation preparation. So many are not prepared to finish a quality review when they receive their first review request. On the other hand, junior researchers do not get as much attention on their work as senior researchers, which in some way leads to fewer review opportunities.
My PFTF project aims to help junior researchers prepare for peer-reviewing by discussing (1) how to write a quality review to improve the submitted manuscript and (2) how to increase your publicity to receive more review requests. I am proposing a series of events that are open to the graduate students and postdoc scholars on campus, including (1) a roundtable discussion that involves early-career researchers from different fields to share their peer review experience and the lessons they learned from conducting peer-review; (2) a workshop that walks graduate students and postdoc scholars through the review process to facilitate them finish their first peer review; (3) a panel discussion with journal editors on how to receive more review requests and their expectations on the review comments from editors' perspective. These events will encourage attendees to start considering contributing to their scientific communities by serving as peer reviewers. After participating in the events, the attendees should have the resources to finish a quality peer review and are expected to take the initiative to look for review opportunities.  
UndocuGrad Student Toolkit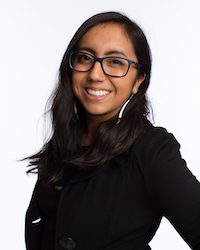 Deniss Martinez
(Ph.D. Candidate, Ecology)
The aim of this project is to create a toolkit for incoming and continuing undocumented graduate students that help them thrive in their careers. It includes information that is practical like guidance on applying, funding, and resources. The workshop component of this project will bring students together to discuss other challenges like mental health, mentorship, and community building. This project hopes to address the information gap for undocumented graduate students and connect them to each other and the AB540 and Undocumented Student Center as resources. Ultimately, we hope students leave empowered by information and community. 
Simple Steps to Turn Sketches into Digital Communication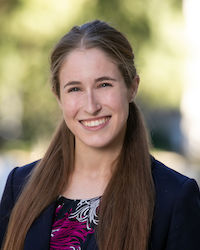 Danielle Stevens
(Ph.D.  Candidate, Integrative Genetics and Genomics)
Being able to communicate our research clearly and succinctly is essential to our training and success as graduate students and postdoctoral scholars. This is especially true of digital communication, where we as authors are often not present with those receiving the information we are trying to convey. As researchers, we spend innumerable amounts of time collecting and developing figures of our data. Yet, there is much less emphasis and training for graphics that display conceptional ideas, background information, and diagrams of methods. These types of figures are key for communicating the context or "big picture" of our work and what it means to others. These efforts are so important that many journals pay graphic designers to develop digital graphics to improve communication clarity between author and reader. Programs such as BioRender, while excellent at helping fill this gap, are expensive for the user at $420 a year. However, with some key tips, tricks, and training, anyone can make professional, publish-ready graphics using the free, open-source software Inkscape and a relatively inexpensive drawing tablet. The initial learning curve with vector-based software can feel steep without any guidance. My goal is to flatten this curve, making figure design and implementation accessible to anyone. 
By building an online resource that can be online free and accessible to a larger global community. Therefore, I will first create video content, which showcases some tips and tricks to make using Inkscape relatively easy. My goal is to create at least five 8 to 12-minute videos centered around core skillsets including basic use, object creation, object manipulation, color pallets, and more with an emphasis on creating STEM-focused graphics. In addition, to reach the UCD community directly, I will be holding workshops to provide hands-on instruction on usage.
The aim of this project is to make such software less intimidating and the transition to making high-quality graphics much easier. This has the potential to improve communication between researchers and the public, which has key implications for long-term career growth and overall career advancement. All it takes is an idea and a sketch. 
GRASP: Graduate Resources, Accountability and Structure Partnerships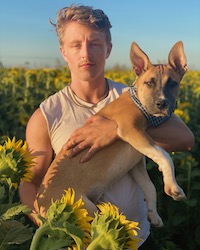 Eric Tymstra
(Ph.D.  Candidate, Ecology)
Graduate school presents students with a wide variety of challenges, the least of which is the difficulties associated with navigating an often unstructured environment. Students are often expected to learn to manage their own time while completing a complex large-scale project without much guidance on how to organize their time. To address this challenge, my project--GRASP: Graduate Resources, Accountability and Structure Partnerships--will provide students with practical tools and accountability networks. These resources will not only help provide structure to students who participate in the 2021-2022 academic year but will also be translated into a toolkit that will be available for students in the future.
My PFTF project will engage students through small groups that will act as accountability networks as well as 3 workshops run in the Fall, Winter, and Spring terms. In Fall, I will recruit students through a productivity workshop in which I will introduce my project aims as well as providing information about established time structuring methods (e.g. the Pomodoro method). At this workshop, I will recruit students to join small accountability writing groups. These groups will organize to meet 1-2 times a month with weekly check-ins. Students will meet to work together and share productivity tools. 
As groups continue to meet, I will hold a workshop in the Winter quarter in which groups will share their experiences with different time management and accountability techniques, which I will compile into a toolkit that will include participant feedback. I will then provide this toolkit to the various groups and they will continue to meet through the rest of the terms. Our workshop in spring will allow participants to be the experts as we work together to finalize the contents of the toolkit, which will be disseminated through graduate student resource platforms. 
Python Bootcamp for Incoming Graduate Students
Nathan Yoshino
(Ph.D.  Candidate, Chemistry)
For many graduate students, coding will be an essential tool for the classroom or for research. However, many undergraduate curricula do not prepare students for these challenges. Incoming first-year students must struggle with programming before they can engage with course content. In response to this, an annual Python Bootcamp is held each year during orientation week before classes start in order to provide a programming foundation for new graduate students. Python was chosen as it is a free and versatile coding language whose fundamentals are translatable to other languages as well.
The workshop was held in person over three days. Each night, a one-hour lecture was given to demonstrate basic Python fundamentals and functionality. This was followed by a period where students were allowed to work on a cumulative assignment and were asked to implement the concepts demonstrated in each lecture. Students were encouraged to work in groups with support from volunteers.  The primary objectives of the workshop were to enable students to perform basic programming, to equip them with the ability to find and teach themselves new functionalities and libraries in Python, and to demonstrate what real-world applications of programming look like. 
To allow students to refer back to material and for students that were not able to attend, all recordings and resources were posted to a website: https://ucd-python-bootcamp.github.io/Bootcamp-2021/