Congratulations Kristin Predeck, Graduate Student Career Development Assistance Award Winner!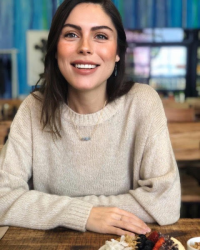 Kristin Predeck is the first awardee of the new Graduate Student Career Development Assistance Award, a $500 award offered by the UC Davis Internship and Career Center, made possible with support from the UC Davis GradPathways Institute for Professional Development.  The award is available to a current UC Davis graduate student who completed an unpaid internship in support of their career development goals.  We interviewed Kristin to learn about her experience; read the condensed interview below:
Jonathan Minnick: Kristin, why don't you just give a very brief introduction of who you are and what you're studying?
Kristin Predeck: Sure, I'm a fourth year PhD candidate in the German department, and I'm co-advised by professors in both German and Linguistics. I conduct my research in the phonetics lab, usually on campus, and I mainly work on human computer interaction and phonetic research.
A lot of our research has also been done on mental health so I've been on a depression project in the lab and then, I've done two internships, so in one of them, I also worked on depression, leveraging signal processing and voice for healthcare and tracking mental health.
Tell me about your your internships.
So the first internship I did last year, and that started in the summer, that was for Gabb Global, they are an Ed tech startup, and they're working specifically on leveraging VR (virtual reality) for language learning. I've been a language teacher for about six years, maybe longer now; I lost track. And I've worked with different types of students so I've worked with international students in Germany, I've worked with Irish high school students, I've worked with under-age refugees in Germany, so you know I've pretty much seen it all, when it comes to language learners. So, they hired me as their linguist on board and I designed all their curricula, made sure that we have a blueprint that we can reuse for every language, a framework, and we just need to plug in the values for languages. I also designed a little speech recognition game for them that I wrote in Python, just because phonetics is my research focus and I do code a lot, so I did a little speech recognition guessing game for them.
And then the other internship I did was much more data science-y, machine learning based with Canary Speech. Their company uses voice tech for healthcare, so they have different clients like biopharmaceutical companies that hire them to basically do data analysis for them, and I got a huge data set that I just got to play around with and analyze and that was about depression. I was hoping to find voice features to differentiate between different levels of depression, because right now we're able to tell whether someone is depressed or not from voice, but we're not really able to say how depressed they are. So, I got to play around with a data set that has severe and medium depression in it and see if we can build a robust machine learning model that can differentiate between the two types using only acoustic features. I got super lucky that I got to do both, and I did them in succession of one after the other.
There must have been a lot of great learning experiences that came out of that.
Exactly, and they both taught me very different things so that was great, because they will hit such a different focus that I just got to do all sorts of different things, and that was really fun.
Broadly speaking about internships, what brought you to want to do an internship? What is the real value of doing an internship while being a student, because obviously that's a lot to balance, right? Especially if you're trying to do research, and all these academic things.
Doing an internship really teaches you a ton of things that you don't get to do in academia, so all the business side of things, of course, you don't get a peek into when you're in academia. It's a very fast paced environment, so you have about 12 weeks to complete your project. It's a lot more fast paced than in academia from starting an experiment to having a finished publication in a journal, it takes a lot of time. You get to pick up a lot of actual hard skills, for example, during my internship for Canary Speech, I learned Bash coding, I learned to work with Kaldi, and I got to dive deeper into my Python machine learning more than I had before. These are all actual skills I can put on my resume. And the other thing is if you want to transition to industry, they all expect you to have some sort of experience, and unfortunately they don't count academic experience. So if they can see that you're able to function and perform in an industry setting it's going to make it a lot easier to actually get hired after graduation. These are all things that academia doesn't always prepare you for, because it's just so different from what you do in the lab, especially in the social sciences and humanities. It's very different.
Thinking now about the award, what does it mean to be recognized in this way?
I think it's great because it's potentially motivating students to take that leap of faith and do it. Unfortunately, internships are still often unpaid, which it shouldn't be, but that's just the reality of things, especially with startups who just can't afford to pay their interns. But you learn a ton in a startup, so I think it's a good motivation for future graduate students or students to think about doing an internship. Of course, $500, that's not going to support you over the course of 12 weeks, but it's a nice incentive to do it because these experiences are not required as a part of my degree. So I think it's really a good motivation for students to make that jump and do it, regardless of whether you know their department is going to encourage them to do it or not.
I know you briefly talked about the relationship with a mentor and what that's like. Do you want to go into a little more detail about how valuable that relationship is not just during the experience, but even after the fact?
I think it is really valuable. I'm not sure if I want to go into the startup space on my own, but I'm learning a lot of the business side and, you know, whose hands to shake and to talk the talk and everything. That's a very valuable relationship and then with my supervisor at Canary Speech, we're publishing, or we're hoping to publish, a paper together about my project there at Interspeech [the world's largest and most comprehensive conference on the science and technology of spoken language processing] this year so it's a continuing relationship even after. I got to ask all the questions, such as how are your job interview views, what do you recommend I do to prepare for them, and all of those things.
The next application cycle for the Graduate Student Career Development Assistance Award opens on May 17th and are due by June 15th.  Apply here!