The Writing Jumpstart Pathway directs you through the support and scaffolding to set a major writing project for success.  Position yourself for success by taking advantage of UC Davis resources to support your writing.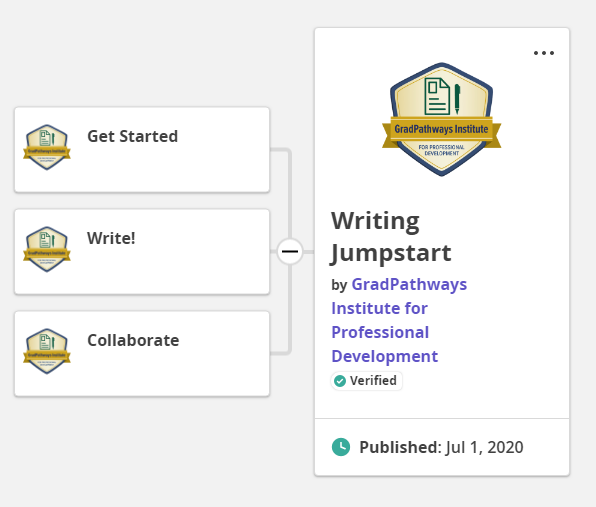 This pathway is ideal for students and postdocs seeking to organize their preparation and use UC Davis resources to start a major writing project.
This pathway take 8-12 hours to complete, involving 3 micro-badges.  The top badge is awarded after the completion of a writing audit and verified participation in writing retreats and consultations.
View this Pathway on badgr

How to Enroll:
To enroll in the Writing Jumpstart Pathway please complete the form on the right.  You may enroll at any time, even if you have already completed some or all of the requirements.  You will be enrolled in 1-2 business days.  If you have any questions, please contact gpi@ucdavis.edu.
Pathway Progression Requirements:
Microbadge: Turbocharge Your Writing Submission Guide
Microbadge: Focused Writing Submission Guide
Microbadge: Collaborative Writing Submission Guide

All work should be submitted via the Gradpathways Institute Micro-credential Submissions Portal.
Our micro-credentials undergo continuous improvement and development: If you believe that you have completed a training that would qualify for part of this pathway, but you do not see it on this list, please fill out this form to submit it for consideration.