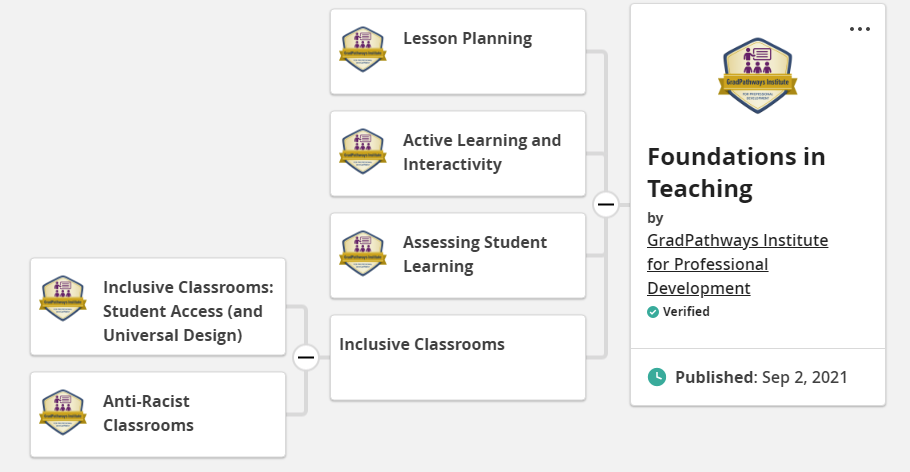 As part of the GradPathways Institute for Professional Development's Micro-credentials Program, the Foundations in Teaching Pathway collects foundational pedagogical training from the Center for Educational Effectiveness for graduate students and post-doctoral scholars at UC Davis. This pathway covers topics such as:
Creating inclusive classrooms,
Lesson planning,
Assessing student learning, and more.
This pathway is ideal for anyone seeking to develop and document foundational skills and training in pedagogy.
This pathway takes approximately 10 hours to complete, and consists of 5 microbadges.
How to Enroll:
To enroll in the Foundations in Teaching Pathway please complete the form on the right.  You may enroll at any time, even if you have already completed some or all of the requirements.  You will be enrolled in 1-2 business days.  If you have any questions, please contact gpi@ucdavis.edu.
Pathway Progression Requirements:
Microbadge: Lesson Planning Submission Guide
Microbadge: Active Learning Submission Guide
Microbadge: Assessing Student Learning Submission Guide
Microbadge: Inclusive Pedagogy Submission Guide
Microbadge: Anti-Racist Pedagogy Submission Guide
You can view the live workshop schedule for the Center for Educational Effectiveness here, and you can sign up for consultations with a specialist here.
All work should be submitted via the Gradpathway Institute Micro-credential Submissions Portal.
Our micro-credentials undergo continuous improvement and development: If you believe that you have completed a training that would qualify for part of this pathway, but you do not see it on this list, please fill out this form to submit it for consideration.