Writing and Publishing – Winter 2022
For graduate students and postdocs – a variety of resources are available to meet your writing and publishing needs including workshops, consultations, a writing partners program, and writer's retreats.
Workshops and Events
Providing Effective Feedback on Student Writing
January 18, 12 – 1:30 pm | 1220 Graduate Center, Walker Hall (Gibeling Room) | Register
Active Reading to Improve Writing
January 28, 1 – 2:30 pm | 1220 Graduate Center, Walker Hall (Gibeling Room) | Register
Publishing the STEM Journal Article: Understanding the Process, Identifying Journals, and Submitting Your Work
February 1, 2 – 3:30 pm | 1230 Graduate Center, Walker Hall (West Conference Room) | Register
Targeting and Publishing your Journal Article in the Humanities and Social Sciences: A Genre-Based Approach
February 10, 3 – 4:30 pm | 1130 Graduate Center, Walker Hall (East Conference Room) | Register 
Graduate Writer's Retreats
Download Flyer with writer's retreat dates and times. Writing retreats are an opportunity for graduate students and postdocs to dedicate time to their writing. Each retreat is 3 hours long and hosted by a Graduate Writing Fellow who provides drop-in consultation services for scholars seeking writing assistance. There is no requirement to attend the retreat for the entire 3 hours; please come as your time allows. All retreats not hosted on Zoom will take place in the Quiet Writing Room in Walker Hall (room 1240).
Retreat Dates (no registration required):
Wednesday, January 26, 9 am – 12 pm; ONLINE (Register)
Friday, February 4, 2 pm – 5 pm; ONLINE (Register)
Wednesday, February 9, 10 am – 1 pm
Thursday, February 24, 9 am – 12 pm
Tuesday, March 1, 10 am – 1 pm
Graduate Writing Fellows offer one-on-one writing consultations with enrolled UC Davis graduate students and postdocs. Help is available for any stage of the writing process.
The Writing Partner Program will create mutually beneficial relationships with the goal of becoming productive writers. This act of peer review is helpful for learning about different styles of writing, genre conventions, and more.  Participants sign-up and are matched with a writing partner.
Accountability for Thesis/Dissertation Writing Support Group
Winter 2022 information coming soon.
Support Group Facilitator: Dr. Bai-Yin Chen, Psychologist, Counseling Services. This group provides a supportive space for graduate students to explore tools to overcome obstacles, such as goal setting, procrastination, social isolation, and time management. Please note that this workshop does not focus on the technical aspects of writing. The group is designed to help participants stay on track during their writing process.  Participants must complete a short survey and will be contacted by Dr. Chen with more information on how to participate.
This workshop curriculum has been developed by faculty from the University Writing Program and by Graduate Writing Fellows from across the disciplines to help graduate students learn to prepare work for publication, deepen their knowledge of writing theory, or learn cross-disciplinary principles for incorporating writing into teaching through this certificate.
Click the link above to see more resources.
Additional Handouts:
 Success and Socialization | Writing and Publishing | Presentation Skills | Teaching and Mentoring
Leadership and Management | Professionalism and Ethics | Career Management | Wellness and Life Balance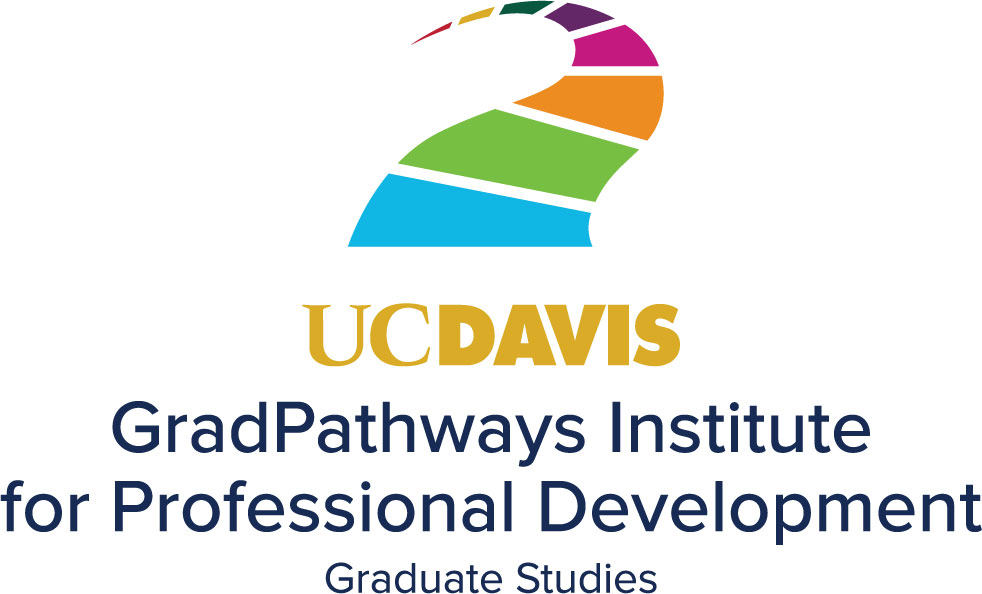 URL for this page: https://gradpathways.ucdavis.edu/writing-and-publishing