Wellness and Life Balance – Winter 2023
To be successful in graduate school or postdoctoral training, it is important to maintain a balance between educational pursuits and wellness. 
Workshops and Events
Valentine's Day Mixer
Friday, January 27, 2023
Graduate Center, Gibeling and West Conference Rooms (1st floor)
Register at https://ocpweb.ucdavis.edu/dems/register/register.cfm?variables=7EC1D22EDDAE8
A Valentine's Day themed mixer for graduate students and postdoctoral scholars.  This will include networking, Graduate Center resources, graduate student and postdoc organizations, and dinner!  Contact Eva Meza, DEI Consultant, GradPathways,  emmeza@ucdavis.edu with questions.
Writing Accountability 3-Part Workshop Series with Dr. Bai-Yin Chen 
Are you struggling in completing your dissertation or thesis writing? This workshop series is designed to support graduate students who are in the stage of writing their dissertation or thesis to manage emotional, behavioral, and organizational challenges. There are three sessions in the series. Participants are encouraged to attend all three sessions. 
Session 1(February 7th, Tuesday, 1 - 2 pm): Set writing goals; manage your time; and develop motivation | Register with 1-click
Session 2 (February 23rd, Thursday, 11:30 am – 12:30 pm): Cultivate self-compassion and manage procrastination | Register with 1-click 
Session 3 (March 15th, Wednesday, 4 - 5 pm): Cope with anxiety; commit to actions; and regain self-confidence | Register with 1-click 
---
Courses and Programs
Graduate Student Support and Therapy Groups
For more information about group counseling services including individual counseling, visit https://shcs.ucdavis.edu/services/counseling/group-services. If you are interested in a group, please call Student Health and Counseling Services (SHCS) appointment desk at (530)-752-0871 for an initial appointment. Groups typically consist of four to ten students and are free for registered students.
---
Individualized Advising
Counseling Services for Graduate Students
Counseling services are available by appointment and drop-in for emergency situations. Dr. Bai-Yin Chen is a psychologist specializing in graduate student concerns and issues. If you would like to set up an appointment with Dr. Chen, e-mail her at bychen@ucdavis.edu or call 530-752-2349.
Counseling Services for Postdoctoral Scholars
The Academic and Staff Assistance Program (ASAP) offers confidential, cost-free assessment, intervention, consultation, and referral services to all UC Davis and UC Davis Health postdoctoral scholars and their immediate families.  To make an appointment call 530-752-2727 (main campus) or 916-734-2727 (medical campus).
---
Community Building and Activities
Graduate Studies Diversity Community Dinners
The goal of the biweekly Community Dinners is to engage in social interactions in an effort to make UC Davis feel more like home. Specifically, the environment is relaxed and inviting and meant to be an opportunity for students to relax, rejuvenate and build lasting connections.  Spring and Summer 2022 Dates:
---
Food Security Resources
Aggie Compass Basic Needs Center | GSA Pantry | ASUCD Pantry | Fruit & Veggie Up!
Financial Wellness
Graduate Student Financial Aid and Scholarships | Aggie Blue to Gold Financial Wellness Program | Graduate Transition Short-term and Emergency Loans | Student Emergency Relief Aid (SERA) | UC Davis Student Parent Childcare Funding Program
Recreation and Fitness
Campus Recreation | Manetti Shrem Museum of Art | Mondavi Center for the Performing Arts
Health and Safety
Student Health and Counseling Services | Wellness Services | Student Disability Center | Community Advising Network (CAN) Community | Center for Advocacy Resources and Education | Each Aggie Matters
Additional Handouts: 
Success and Socialization | Writing and Publishing | Presentation Skills | Teaching and Mentoring
Leadership and Management| Professionalism and Ethics | Career Management | Wellness and Life Balance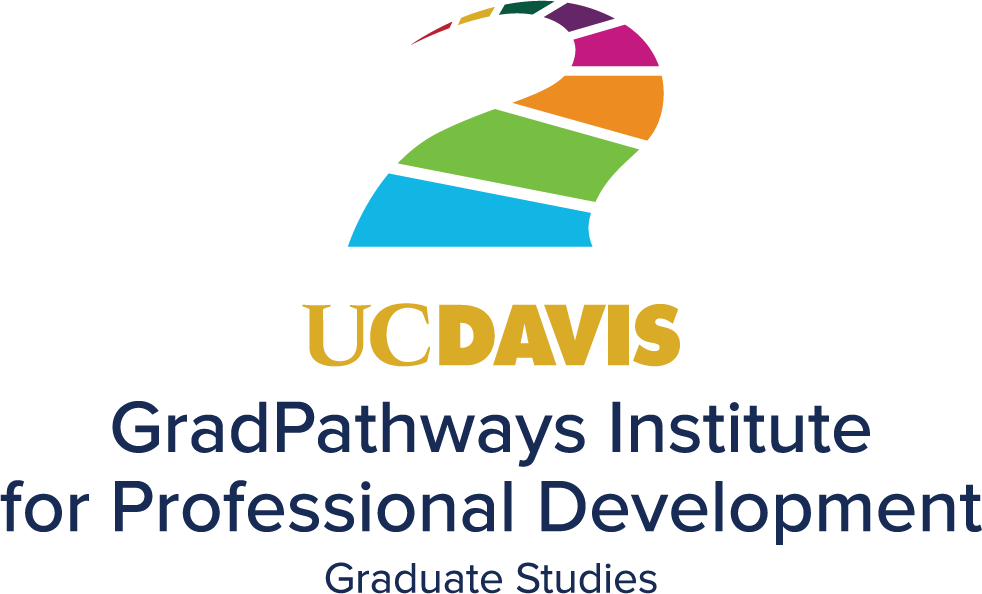 URL for this page: https://gradpathways.ucdavis.edu/wellness-and-life-balance